"

...he churns out smart, catchy rock tunes that growl in some places, jangle in others." - Amy Biancolli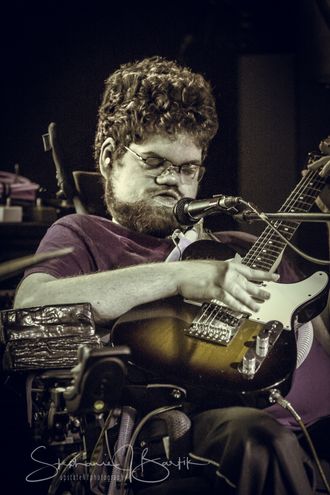 BIO:
"Performing live is the purest form of expression I can muster. It allows everything I want to say musically and has a forum in which I can say it," remarks Lucas Garrett (Drew Wardle, Nippertown, 2021), a musician from Upstate New York. "If you told me a year or so ago, I'd be writing these intimately crafted songs, I would have called you crazy!" Garrett has played professionally for over nine years. In this time, he has incorporated his idiosyncratic vocal stylings with an unusual blend of progressive rock, folk, new wave, and indie to create a unique sound that audiences enjoy time and time again. In a short amount of time, Lucas has surely gained attention, releasing his debut, Evening's Come, But it's Not Dark (2017), Love is Better (2019), and Familiar Floors (2020).
Now, with his latest release, Reaching Through Dreams (2022), Garrett explores the vulnerable: the acceptance of love in his life, the anxiety that comes from it, and the path forward. The topics, while nothing new to this art form, are certainly new to him. His life, changing in ways he never imagined, has had its fair share of ups and downs, but he stands firm in the fact that "these recent peaks, shall we say, has made every valley and ditch I've ever experienced worth it."  Those listening will witness a songwriter continuing to hone his craft: "[Garrett] is one of the most distinct voices in the 518 music scene. On Reaching Through Dreams, he puts his musicianship and songwriting skills to work, displaying the talents and personality that have made him one of the more thoughtful artists in our area." (Jim Shahen Jr., Times Union, 2022).
Garrett, armed with a "rumbling baritone," and songs that are "sneaky with unexpected turns and inventive instrumentation," (Amy Biancolli, Times Union, 2019), has found people of all ages enjoying his music; on and off the stage.
____
Band:
Lucas Garrett - Guitar/Vocals
Kevin Kosach - Bass
General:
info@lucasgarrettmusic.com
(518)744-7304